We've talked about this before: For a classical pianist, a digital piano is in no way a substitute for a traditional acoustic piano.
But despite the tendency of piano teachers to faint at the thought of using a digital piano to play Beethoven, the fact is that lots of kids are learning on digital keyboards. So let's look at the bright side today: Classical pianists who have electronic keyboards can actually find many ways to benefit from their features when practicing.
Benefits of Digital Pianos for Classical Pianists and Students
So yes, we know: A good quality grand piano or baby grand piano is essential for a serious classical pianist. However, a digital piano has some surprising uses in a classical music studio, including experimenting with voices and evaluating technique.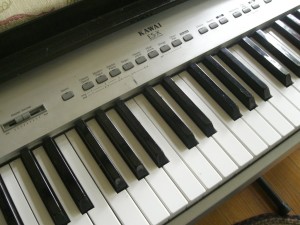 Even Action: The action of a digital keyboard is so even that it reveals any irregularities in the pianist's technique, especially in fast even passages. This is evident when the pianist records a selection, using the recording function available in most digital keyboards. Very few acoustic pianos have such even action, especially at the lower prices.
Precision: It doesn't take as much pressure for a key to go down on a digital piano, activating the electronics that make a noise. Practicing on such a sensitive keyboard makes pianists more careful and more accurate, because it forces them to avoid sloppily hooking onto and grabbing a second note when making moves, playing chords, or handling fast technical passages.
Playing and Practicing Duet Parts: Using the keyboard's metronome and recording capability, the pianist can play and record one voice at a time, then play another part over it. .
Experimenting with Sound. Try using the keyboard's many voices. Melodic lines played by different instrument voices will suggest different ways to conceive, shape, and phrase: the phrase. A piece of music sounds very different when played by a trumpet, flute, or harpsichord.
Voicings: Play a Bach piece using the organ voicing, the harpsichord voicing, and other piano voicings. Play a Two-part Invention using the digital piano's split voice function, i.e.: play the piece using one instrument voice in the bass and another instrument voice in the treble.
Composing: Keyboards can be used in tandem with computers for composing. Compositions can be played into the keyboard and notated by the computer.
Head-phones: For young musicians, city dwellers, and those sharing living quarters with room-mates, a digital keyboard can be used for late-night practice in an apartment.
Price and Value: A digital piano suitable for use as a classical instrument runs $1000 – $3000; sometimes more. The cheapest new acoustic uprights start at about $3000; at this price, many pianists feel that the digital keyboard plays better and gives more value.
Limitations of Digital Keyboards for Classical Pianists
The main problems with a digital keyboard are the touch and tone, including the lack of overtones.
Action: Digital pianos lack the feel of a "real" piano. The closest most get (even with so called "weighted grand piano hammer action") is mimicking the feel of an inexpensive upright. This makes them a poor substitute when it comes to dynamic control and voicing.
Tone: Closely related is the problem of tones and overtones: Digital piano sounds are recorded. The recordings mimic and copy the overtones of a piano, but the overtones themselves don't exist. In an acoustic piano, overtones sound in relation to other notes. The sounds a pianist gets on an acoustic instrument, especially when pedaling, are completely different than what is available from a digital keyboard.
Pedaling Issues: Subtleties are lost on a digital piano. On a digital, the pedals go on or off. On an acoustic piano, there are several gradations in between.
Heft and Weight: It's a different experience to sit down at an acoustic piano and put true arm weight into a big concert piece. It's difficult to put the same physicality into a lightweight instrument that moves around when it is played too hard.
The bottom line: A digital piano is not a substitute for an acoustic piano. But while digital pianos are not used in classical performances, they can be a useful addition to the classical pianist's music room.
For more information: Acoustic Pianos versus Digital Pianos.